Post by alum on Nov 16, 2018 10:24:08 GMT -5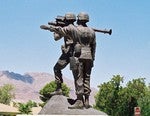 crossports.freeforums.net/thread/3223/ted-wells-honored
These kids view the issues of LGBTQ rights, sexual assault and harassment as important civil rights issues just as students back in the late 1960's viewed race and the war in that same way.
I bet those old grumps from the class of 1928 were calling for Father Swords to be fired for giving in to Ted Wells, Art Martin, and their friends.
No doubt events on campus, progressive and otherwise, elicit varying reactions. Certainly there are varying views (beyond the academic progressive views) on many issues and one hopes all views have a voice on campus. The last thing one wants to see is an attempt to enforce a lockstep progressive orthodoxy.
It remains well within the realm of possibility that Fr. B is overreacting in a 'virtue signaling' sort of way - I would certainly respect and defend the right of anyone to suggest that.
BTW as a student of language and usage I have increasingly noticed the labelling of criticism/commentary/disagreement as the term 'mocking'. Of course I've also noticed that kids state 'going to prom' rather than 'going to the prom' nowadays. So there may be nothing to that.
mock verb
\ˈmäk, ˈmȯk\
mocked; mocking; mocks
Definition of mock (Entry 1 of 4)
transitive verb
1 : to treat with contempt or ridicule : DERIDE
he has been mocked as a mama's boy
— C. P. Pierce
Take a look at what dadominate wrote and tell me it is not mocking.
Sometimes you read this stuff and you figure there is some clever conservative student group deliberately parodying progressive ideas to make progressives look silly. I wonder...


Sometimes I read what dadominate, bbc, and sov write and figure that there are clever students who have created these profiles so that HC alumni look silly (or worse.)