2019 QB
Feb 20, 2019 10:32:52 GMT -5
via mobile
Post by richh on Feb 20, 2019 10:32:52 GMT -5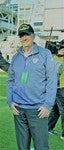 To be eligible player 1st needs to qualify by showing hardship or injury that prevented participation. Second, the player must must have uncompleted academic courses to complete his degree requirements.
The semester off requirement is a university requirement not a PL bylaw. I cant speak to Holy Cross policies but at Lehigh each case is determined based upon the individual athlete's circumstances. Where the injury or hardship requires too much time away from class, the student usually withdraws for the semester. Usually this involves a family crisis such as serious illness or death. Injuries such as ACLs and shoulder injuries, which are the most common, usually do not prevent the student from attending class. LU does not require them to withdraw.
doesn't PL require the player to take a full academic load in season... so merely taking a course or two to complete degree requirements would not meet this requirement? 
Rules require normal academic progress as a full time student. One or two classes would make you a part time student. The key is degree requirements. A student ,for example, takes a full load every semester but mid soph year changes major from biochem to English. Unless he overloads for multiple semesters he will finish 4 yrs possibly short of requirements for an English degree. Even more likely at least at Lehigh are 5yr double majors and interdisciplinary majors all requiring more credits.
Another possibility is alternating semesters at 15 and 12 credits. Both qualify as full time students and fall within normal academic progress definitions
Bottom line this is the PL. Most Kids pick our schools based more on academic offerings and not just on a sport.
At Lehigh our 5th years who dont take a semester off will be given a new schollie for his last year. It is certainly worth the investment by the coach. 5th year players are usually worth much more than a frosh.