Post by beerseach on Oct 14, 2016 10:47:24 GMT -5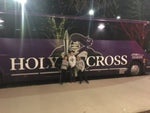 The 42-year-old Connecticut native has built a 87-14 record in his eight seasons at St. Thomas, with six NCAA playoff berths and an 15-6 postseason mark. He's among Division III's most accomplished coaches -- in any sport -- age 45 or under.
Caruso took over a team that finished 2-8 the previous year and:
led the Tommies to a 7-3 record in his inaugural season
followed that up with an 11-2 record in 2009, including a 2-1 playoff record and a berth in the NCAA playoff quarterfinals;
guided a 12-1 performance and a return NCAA quarterfinal run in the 2010 campaign;
led UST's 13-1 record and NCAA playoff semifinal trip in 2011;
and oversaw 14-1 marks and national runner-up placings in both 2012 and 2015.
That five-year run from 2008-2012 completed the biggest turnaround in Division III football bringing the Tommies from a No. 206 national ranking to No. 2. In the last 11 years, UST is one of only three D-III programs to play in a Stagg Bowl national championship game. In this decade alone, UST is 69-9. Since 2010, none of the 660 NCAA institutions at all levels that sponsor both sports have a better combined football/men's basketball record than St. Thomas.
UST's 2010 conference football championship was the school's first since 1990. St. Thomas went on to claim three consecutive conference championships from 2010-2012, the school's first such streak since 1947-1949. It became the first team in MIAC history to post three consecutive 10-0 records in the regular season.
In guiding the 2012 Tommies' NCAA runner-up finish, Caruso was voted by his peers as the Division III National Coach of the Year by the American Football Coaches' Association (AFCA). He receved the same AFCA honor in voting of his peers in 2015,
He's just the third Division III honoree in the 30-year history of the AFCA award to top the voting without winning the NCAA championship. He's believed to be the first AFCA Coach of the Year recipient who also played in college for an AFCA National Coach of the Year. His first mentor, Ithaca College's Jim Butterfield, was a two-time honoree.
UST graduated four All-Americas from 2011 and lost several players to injuries as the 2012 season played out, but under Caruso's leadership was able to post to a school-record 14 wins and make the program's first trip to the NCAA championship game.
The Tommies lost 28-10 to 11-time national champion Mount Union in the Alonzo Stagg Bowl. St. Thomas earned a season-ending AFCA ranking of No. 2 in the nation and had four All-America honorees, both program bests. The 2012 Tommies had the most home-field victories in all of NCAA football (9-0 record).
UST won eight regular season games in 2014 and advanced to the NCAA playoffs for the fifth time in the last six years.
The 2015 team was unbeaten during the regular season with a 10-0 record and won the MIAC championship. The season ended with another second-place national finish and 14-1 after appearing in the Stagg Bowl and falling 49-35 to Mount Union. Six players received All-America or honorable mention All-America honors led by National Offensive Player of the Year Jordan Roberts.
Impressive Stats
Out of 639 NCAA football programs, he was one of just three head coaches – joining Mount Union's Larry Kehres and Boise State's Chris Petersen -- to lead the same school to 11 or more wins in each of the four seasons from 2009-2012.
Caruso was also named the Liberty Mutual Division III National Coach of the Year for the third year in a row -- Liberty Mutual's only multiple winner in any division in the award's seven-year history.
He previously was named Division III Coach of the Year in 2011 by American Football Monthly magazine.
Caruso accomplished something unheard of in college football coaching: He improved his won-loss record in each of his first seven seasons as a head coach. He inherited a Macalester program that was 0-9 the previous fall and guided the Scots to records of 2-7 then 4-5. He took over a St. Thomas program coming off a 2-8 season and has posted records of 7-3, 11-2, 12-1, 13-1 and 14-1 in his first five seasons.
In that five-year span, UST football won CoSIDA Academic All-America honors five times; had one National Football Foundation Scholar-Athlete; had three Gagliardi Trophy semifinalists; had three AFCA Good Works Team honorees; and on the field had two conference Player of the Year recipients and 11 players who combined to win All-America honors a total of 16 times.
At his six stops in a 18-year coaching career, he's coached five winners of the Rimington Award recognizing the top center in each of four levels of college football.
Caruso was voted the Minnesota Intercollegiate Athletic Conference Coach of the Year in each season from 2010 to 2012 and was honored again in 2015. Prior to 2012, the last Tommie football coach so honored was in 1993.
His Tommie teams have been a model of consistency. They've led in the second half or overtime in 95 of their 101 games, including 78 of 80 regular-season games.
St. Thomas isn't Caruso's first turnaround. He helped resurrect three other football programs and has developed a national reputation for installing dynamic, high-scoring offenses.
The Greenwich, Ct., native played on two state championship football teams at Greenwich High, and has many family members and a vast support system living in that area.
He went on to Ithaca (N.Y.) College, where he was a starter on the offensive line (center) and helped the Bombers make two NCAA Division III playoff trips and post a 30-13 record in his four-year era. He spent one season as a graduate assistant coach at Ithaca, where he coached the offensive line.
Caruso has mentored 15 offensive players who signed pro contracts, including former NFL kick-return standout Stefan Logan of the Detroit Lions.
Caruso earned a Bachelor of Science degree in 1996 from Ithaca, where he majored in sport studies. He earned his master's degree in education from North Dakota State University in 2004. Coach Caruso and wife Rachael reside in St. Paul with daughter Anna (12) and sons Cade (10) and True (9).
Liberty Mutual made three $50,000 charitable donations on his behalf, which Caruso has designated to St. Jude Children's Research Hospital; Habitat for Humanity, Twin Cities; the University of Minnesota Cancer Research, located just four miles from UST's campus in Minneapolis, and Bucky's Pride, his foundation created in 2010 and named after his dad Frank "Bucky" Caruso.
Off the field, Caruso and his program make a strong impact in St. Paul and beyond. He is a founder of a Reading Recess program at local elementary schools. He joined Tommie players in the Up 'Til Dawn Benefit writing 2,000 letters to raise funds for St. Jude's Children's Research Hospital. He also holds an annual youth football camp and is active in state and national coaching organizations at several levels.
Strong Tradition
St. Thomas has a rich tradition since its first varsity games in 1903. The Tommies' are ranked in the top 25 in Division III all-time winning percentage. Thirteen Tommies have gone on to play in the National Football League, including three in the last 25 years, and 2013 marked the 65th anniversary of the famed 1948 Cigar Bowl team which played a New Year's Day bowl game in Tampa, Fla.
Off the field, Tommie football has received CoSIDA Academic All-America honors 22 times in the last 23 seasons; had a player named to the AFCA Good Works Team (campus/community service) a Division III-record 12 consecutive seasons; and have had three players in the last 15 years receive an elite National Football Foundation Scholar-Athlete Award and $18,000 postgrad scholarship.
Glenn Caruso Year-By-Year
Year-----Overall-------MIAC (Place)
2008------7-3----------5-3 (tie 2nd)
2009-----11-2----------7-1 (2nd)
2010-----12-1----------8-0 (1st)
2011-----13-1----------8-0 (1st)
2012-----14-1----------8-0 (1st)
2013------8-2----------6-2 (tie 2nd)
2014------8-3----------6-2 (tie 2nd)
2015-----14-1----------8-0 (1st)
Totals/87-14 (.861)---56-8 (.875)
This is an intriguing candidate. Well done!!!