Post by nycrusader2010 on Jan 23, 2021 8:59:25 GMT -5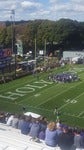 I've seen his head -- stark difference between his first HR in 1986 as a 20yr old Pirate, and his 756th in San Fran.
But have you seen Peyton Manning's head? Obvious he was on something too.
What does a football player have to do with this debate ?
oK. Bonds did not violate the drug policy.
It seems you acknowledge that he used steroids.
So to me if he used steroids which obviously aided his home run stats, that is cheating. Whether or not it did not violate drug policy.
You may define cheating differently.
I define cheating as breaking the rules. Bonds did not break the rules. Yes steroids existed during Bonds' time and were not available during Aaron's time (maybe in some infant form by the very tail end). Every generation of baseball was different. Spitballs weren't banned until 1930. No one is lobbying to expunge the records of pitchers who utilized this advantage for decades. If it were proven that Cy Young lathered up a ball at any point during is 25 year career, should his wins record be vacated? Obviously not. Joe DiMaggio never had to play against an African American pitcher or fielder when he hit in 56 straight games. Doesn't mean the record shouldn't stand.
With regards to Manning, there are a number of prominent football players who were obviously on PEDs. When I was growing up, 'roids were rampant in football even down at the D-III and high school levels. Ridiculous to think that they weren't being used in the NFL during the 1980's,1990's and early 2000's. But because no one cares as much about the "sanctity of individual records" in sports other than baseball, PED users get a pass.
Every sport changes over time. You can't compare statistics in a vacuum. Barry Bonds isn't necessarily the best HR hitter of all time simply because he hit the most homers. He obviously played in an era, roids or no roids, where the longball was being hit at record numbers across the board. 200 wins is now turning into the new 300. Joe Flacco has more passing yards than Joe Montana. Bill Chambers of William & Mary's record of 53 rebounds in a college game will never be broken -- doesn't mean there haven't been better rebounders in the last 70 years.