Post by nycrusader2010 on May 5, 2021 11:17:45 GMT -5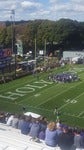 Three points:
1. HC made no visible efforts to avoid relegation. By contrast, Louisville came very, very close to being relegated and went all-in on community ticketing to get over the minimum. Where is that program today if it had been left behind?
2. Holy Cross is the same size as the undergraduate population at Tulsa (3,174). They average about 18,000 per game in the far flung AAC with a 30,000 stadium not much younger than Fitton (built in 1930).
3. Villlanova was within one week of a trustee vote in 2011 to go to I-A and move home games to PPL Park in Chester. That vote was tabled when Pitt announced that week it was leaving for the ACC.
There was no way HC was ever going to go I-A. If you look at our schedules in the 1970's and 1980's, you'll see we ended up on the right side of the fence (for us), along with our Ivy rivals and Colgate. Interesting point about Louisville. I didn't know they were one of the ones on the fence. Wow how times have changed. My dad did tell me a story about how he went to a Louisville-Morehead State game sometime around then and Morehead won. Had Louisville got knocked down, chances are they would've joined the MAC, which DID get relegated and re-instated after re-building attendance above 15K. Then maybe they'd have worked their way up the I-A latter from there, just my guess. So maybe they'd be in the AAC today.