Post by hc17 on Jan 25, 2022 11:38:25 GMT -5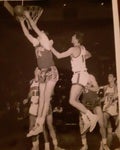 Is there a time frame when it is acceptable replace a coach that is not meeting expectations?
Coach Kearney - You are correct. That was fast and made HC look bad. A coach might think twice about walking in that situation. I'm not saying that was a mistake. From everything I've heard and seen, Coach Kearney was not as prepared to run a college program as any other HC head basketball coach. Still it leads to the revolving door perception
Coach Brown - 5 years. Fired with one year remaining on his extended contract. Managed to reach the semis of the conference tournament once in those 5 years. Year 4 looked like there were signs of progress. I thought the big step backwards in year 5 after only losing one senior (albeit a really good one) sealed his fate Year 4 suddenly looked more like an anomaly than a step along the road of progress. You don't want to look like a revolving door, but at some point, you should be able to expect results. Was 5 years too short a time frame to give Coach Brown a fair shot? If not, how many more years before you decide that the current path only leads to mediocrity? On a minor tangent, many schools are perfectly happy with a clean but mediocre program. Is that the goal HC is striving for?
Coach Carmody - retired after 4 years. Should have no bearing on any perception that HC is a revolving door
Coach Nelson - Still here after 2 1/2 years. Poor does not describe the results. Year 2 was a step up from year 1. Year 3 has been a step backwards. Some extraordinary circumstances. COVID and the half season last year affected everyone, but reasonable to think it would be more harmful to an extremely young, rebuilding team. The exodus of almost everyone is a huge. Many here don't think that it's a mitigating circumstance because they blame Coach Nelson for the exodus. Maybe fair. Maybe not. If we assume that it's too soon to call the Nelson experiment a failure, how much time is fair. Was the 5 year Coach Brown plan enough? I agree stability is important and any coach should be given a fair chance. I'm not putting a hard time on anything, but there is a point where stably bad isn't good enough
Agree with all of the points outlined here -- If the results continue the remainder of the year and Nelson is still the head coach, how can we take this program seriously? Despite the results, they are doing nothing to engage the alums and the broader fan base. If this is the 'flagship' program, what are we doing here? We have one recruit signed on the dotted line for next year. The Jimmys & the Joes aren't going to change unless the transfer portal gives more than it takes! Need a coach that can develop and maximize the roster while getting the job done on the recruiting trail. 2.5/3 years has been my limit. We're not even competitive & that is the worst part.