Post by hchoops on Feb 23, 2022 22:38:08 GMT -5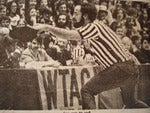 But the substitutions at the 4 position in the last 8-10 minutes were baffling to me
If you watched closely, when Kenney was in the game at he 4, whoever was guarding him, one of the 2 bigs, just sat in the lane guarding the hoop. Never going to the outside with Kenney, whois very limited beyond about 6 feet...When Nelson went with Martindale at the 4 and Dorsey at the 3 along with Gates Luc and Bo, Lehigh had to extend their d and guard everybody..This opened the lane and gave Gates some room away from the doubles he was seeing in the first half...At one point, Woodson was playing Dorsey, Dorsey hit a 3, Lehigh had to get Woodson out of the game...Martindale still has trouble defending, but he can stretch the D and score off the bounce as he did tonight...I thought it was a very good move by the staff to go with that group, and they closed the big lead to 3....
Tonight was one of the better played games we have seen in a while at the Hart..HC gave the best team in the PL all they could handle..this group has gotten so much better as the season has moved on! The sophomores have now played about 30 games, a full season, and their play is showing up....NO give up in this team!!
Mike R. is done for the season, and ankle problem that he has been trying to play thru...HC shut him down, they want him to heal....
Tonight was one of the few the games that I have noticed Coach Nelson really on the officials, they did not have a good night, very inconsistent...during one TV timeout, coach Kennedy spent the entire TO talking to one of the refs, I haven[t seen the stats, but it seemed like Colgate shot about 20 more free throws than HC.
Colgate is the best team in the league. They do everything well on both ends of the floor, and everybody can shoot the ball....
Valid point about the spacing, but
1-Kenney had 8 points, almost all, I believe, on passes at the rim from Gates after Gates was doubled by Kenney's defender.
2- Kenney can defend and rebound ( defensive and offensive-5) against a 4 man, Martindale cannot.
3- Martindale made two nice drives. The first when the game was still undecided, the second, Colgate allowed him to go. Kenney drives more effectively.
And what do you think of HC letting the clock run down in the last 3+ minutes when we were down 7-8 with no double teaming ?
Not the first time.