Post by hchoops on Nov 8, 2022 13:58:58 GMT -5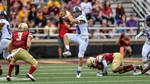 Coulibaly was not dressed, but it's not like he had a cast or a boot or something like that
Rabinovich was the first sub of the game, but I don't think he played at all in the second half. Montgomery seems to be the point guard when Batch is out. Tse came in late in the first half when Batch did something the coach didn't like . I think he also didn't play in the second half. Nine deep in the first half. Seven deep in the second half - and one of those seven (Wilbar) only had a couple of minutes.
Down the stretch it was Montgomery, Gates, Octave, and Kenney with Dorsey and Batch doing the offence/defense switch off
HC went to a zone a few times but only for one (maybe two) possessions before reverting back to man
Gates hit two free throws late to bring the team's percentage up to a poor 40+ percent. If this continues, teams can will resort to the Hack-a-Shaq defense.
Sienna wasn't much better. After the post game meeting, Kenney came back out and was shooting free throws
7 assists? I went to the open practices and there was way more ball movement than I saw last night
Of course we won't shoot .435 on the season for free throws but we surely will struggle. The median D-1 team last year shot .715 on free throws , HC was right there at .712, but we lost Luc (,789) and Humphrey (,818) plus an average FT shooter in Martindale (,708).. This year Gates will no doubt take more free throws than any other player and he, thankfully, is average at .716 for his career. Bo Montgomery is below average at .660 while Octave is a very weak .568 and Kenney .500. I don't know how often Batchelder will get to the line or whether he is a good free throw shooter. Dorsey never gets to the line: he has played 509 minutes in his career and has taken just 6 free throws-astounding. If I had to make a prediction I'd put our over/under at .667, making 2 of 3 attempts. for the season.
A recipe for disaster.
And the way Kenney and Octave likely will shoot the second and third most, it could be lower.
Drawing many fouls was one of the best things last night, far more than we averaged last season. But…